NSFI Certified Slip Resistant Floor Mats and Runners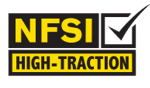 NFSI Product Certification is intended to provide product manufacturers the means to have their products independently evaluated for wet slip resistance. The end result is to provide the end-user relevant information to make a more informed buying decision.
The NFSI has spent more than fifteen years researching various test methods by which materials can be evaluated for their degree of slip resistance, which has resulted in the most comprehensive evaluation process to date.