100% Customer Satisfaction
Guarantee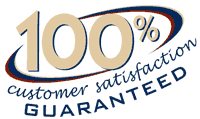 OUR 100% SATISFACTION GUARANTEE MEANS YOU CAN BUY WITH CONFIDENCE.
We offer our customers an amazing unlimited customer satisfaction guarantee.
All of the products on INTERMATS websites are designed for industrial applications. If for any reason you are not 100% satisfied with your products, we will replace the mat or refund your money.
In the unlikely event that you need to return an item please follow the instructions below. You can also email this information to sales@intermats.com
Contact us on 888-498-1355 or email us during office hours and let us know you wish to return a mat.
We will need to know for what reason and your details, name, phone number and the full address where the mat is located. If you know your invoice number, please have this to hand as this will help speed up the process.
If there is no defect or you do not want to consider another mat from our range, return will be accepted subject to a 20% re-stocking plus shipping charges
Please have the following information available:
Contact name & telephone number
Invoice or order ID number
Location of product
Date received
Reason for return